The SDOS 'Recording Area'
.
Birdwatching Sites in Our Local Area
The locations identified on the map and listed in the key below are those that, over the years, have been places visited by members for observing and recording birds. Before the days when observation records could be logged on-line using Bird Track, records were maintained by SDOS and these contributed to the County records. This map shows what was defined as the 'SDOS Recording Area' for this purpose, and the names of the locations will still often be used in User Group posts.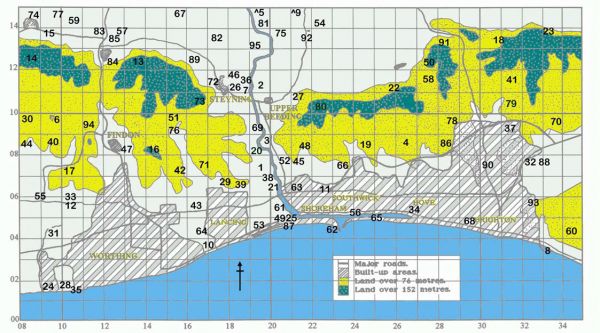 Key to Site Codes:
(CP) after the location name indicates Car Park.
1 Applesham Farm TQ194071
2 Beeding Brooks TQ196116
3 Beeding Cement Works TQ199086
4 Benfield Valley TQ256078
5 Bineham Bridge TQ190151
6 Blackpatch Hill TQ096095
7 Bramber Castle TQ185107
8 Brighton Marina TQ337031
9 Broadmare Common TQ216150
10 Brooklands TQ172034
11 Buckingham Park TQ221059
12 Castle Goring TQ102055
13 Chanctonbury TQ139120
14 Chantry Hill (CP) TQ086119
15 Chantry Mill Pond TQ092128
16 Cissbury Ring (CP) TQ139084
17 Clapham Woods TQ097065
18 Clayton Hill (CP) TQ302133
19 Cockroost Hill TQ245087
20 Coombes TQ190082
21 Cuckoo Corner TQ201068
22 Devil's Dyke (CP) TQ259111
23 Ditchling Beacon TQ333129
24 Ferring Rife (CP)TQ091105
25 Flood Arch TQ208047
26 Glebe Farm TQ182113
27 Golding Barn TQ207108
28 Goring Gap TQ102019
29 Halewick Tip (historic) TQ173066
30 Harrow Hill TQ081099
31 Highdown Hill TQ093041
32 Hollingbury Camp TQ322078
33 Holt Farm TQ104049
34 Hove Lagoon TQ266046
35 Ilex Wood TQ098025
36 King's Barn TQ188117
37 Ladies Mile LNR (CP) TQ318093
38 Ladywell TQ194068
39 Lancing Ring (CP) TQ182062
40 Long Furlong TQ093082
41 Lower Standean TQ315115
42 Lychpole Hill TQ152071
43 Malthouse Meadow TQ157050
44 Michelgrove TQ082083
45 Mill Hill (CP) TQ211074
46 Mumbles (no public access) TQ182117
47 Nepcote (CP) TQ128085
48 New Erringham Farm TQ215082
49 New Salts Farm TQ204047
50 Newtimber Hill TQ272124
51 No Mans Land TQ150098
52 Old Erringham Farm TQ205076
53 Old Salts Farm TQ191044
54 Oreham Common TQ222140
55 Patching Pond TQ088056
56 Power Station TQ246048
57 Rock Common TQ126136
58 Saddlescombe TQ272114
59 Sandgate Sand Pit TQ101140
60 Sheepcote Valley TQ340046
61 Shoreham Airport TQ205055
62 Shoreham Fort (CP) TQ233046
63 Shoreham Sanctuary TQ210066
64 Sompting Brooks TQ162041
65 Southwick Canal TQ247049
66 Southwick Hill TQ240077
67 Spithandle Lane TQ146142
68 St Anne's Well Gdns. TQ299049
69 St Botolphs TQ193093
70 Stanmer Park TQ337096
71 Steep Down TQ168078
72 Steyning Mill Pond TQ172114
73 Steyning Round Hill TQ167104
74 Storrington Mill Pond TQ088144
75 Stretham Manor TQ200137
76 Stump Bottom TQ150087
77 Sullington Warren TQ095144
78 Sweet Hill TQ289099
79 Tegdown Hill TQ313103
80 Truleigh Hill TQ227106
81 Upper Adur Levels TQ198141
82 Wappingthorne TQ168134
83 Warren Hill TQ117139
84 Washington Bostal TQ121121
85 Washington Sandpits TQ125134
86 Waterhall TQ294093
87 Widewater (CP)TQ204043
88 Wild Park (CP) TQ331080
89 Wiston Pond TQ163126
90 Withdean Park TQ300077
91 Wolstonbury Hill TQ284138
92 Woods Mill (CP) TQ218137
93 Woodvale Cemetery TQ328056
94 Worthing Crematorium TQ112097
95 Wyckham Farm TQ190130
CP is for the car park