User Group
Introduction
The SDOS 'User Group' is a private email forum restricted to SDOS members. Our User Group is hosted by a third-party, 'Groups.io' based in California, USA.
Subscribing
To subscribe you can either:-
or
send an email to contact@sdos.org and request an invitation to join. In due course (again allow 1-2 days) you will receive an email from groups.io which you simply reply to, rather than click on the link.
User Group 'Posts'
As a subscriber to the User Group you can
Receive 'posts' by email to the User Group from members
Reply to 'posts' (but please select one of the Reply options at the bottom of the message, rather than use Reply on your email system)
Post a message to the group, with photos if you wish, by sending an email to: sdos@groups.io
Change your email delivery preference, either permanently or temporarily, by sending an 'empty' email to one of the special email addresses listed below
Content
Posts are moderated and we ask all subscribers to observe our User Group Guidelines


Special User Group email Addresses
Use these special email addresses, exactly as shown, to manage your access to the User Group by sending an 'empty' email. Unless shown otherwise you will receive an email asking you to conform the change.
If you are opting for 'nomail' while on holiday, for example, don't forget to restart the service when you return!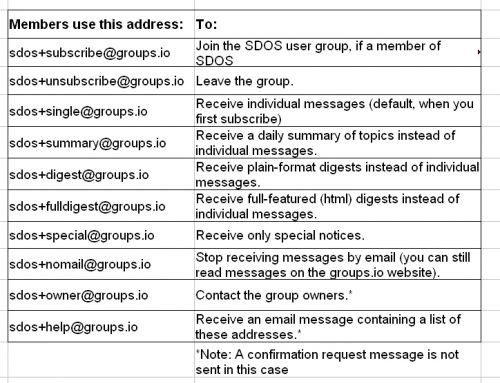 Note:- the default email delivery option is single (individual) and any photos will be attached. 'fulldigest' collates messages into a batch of 12 and sends them together, with clickable links. 'digest' also collates messages, but without clickable clinks. If you change to an option other than 'single' you may have to login to the website (see below) to view message detail and images.

Web Access
You can, as an alternative to using your local email client, access the User Group on-line in your web-browser at https://groups.io/g/sdos To register click on the icon above, then click 'Log-In' in the menu bar and, the first time, click 'email me a link to log-in'. Once logged-in you can set a password for future visits.