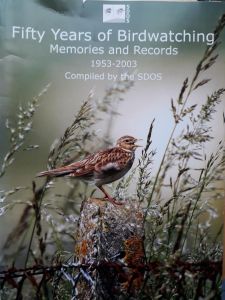 The Early Years
In January 1953 John Stafford and a group of fellow enthusiasts who lived in and around Shoreham-by-Sea in West Sussex formed what was then called the 'Shoreham Ornithological Society' to fill a gap they had identified in local clubs catering for people who were interested in the study of wild birds*. At the end of its first year the membership of the society had grown to 44. Several of those early members went on to become distinguished ornithologists both in the UK and abroad.
In 1962 the Sussex Ornithological Society (SOS) evolved from the Shoreham society to cover both East and West Sussex and later it became necessary to rename our Shoreham society. We therefore became the Shoreham and District Ornithological Society, abbreviated as SDOS.

Our Society Today
Today SDOS has a membership of around 200 and most members live in or around Shoreham-by-Sea. Some of our members were involved in the early years of the society and are now experienced and knowledgeable bird-watchers, whilst others are newcomers to the hobby and are keen to learn. Whilst we are a local society many members have travelled extensively in the UK and overseas and, as a result, have a broad knowledge of birds from around the world.
Throughout its history SDOS has arranged Field Outings in our area and Indoor Meetings in Shoreham. We also publish a Newsletter and we have an on-line Discussion Group. The small annual subscription covers the costs of running the society and also contributes to our conservation work. Details of the various benefits enjoyed by members are provided on the Information pages on this website.

Recording
The Society encourages members to record their sightings and to submit these to the British Trust for Ornithology's database BirdTrack. These sightings contribute to Sussex county data and also help build a national picture relating to bird activity. Some members have permits to ring birds and there are three active ringing stations in our area. Members also participate in regular surveys which provide valuable information on changes in bird behaviour over time and these can contribute to conservation planning.
In The Community
SDOS members have always been active in the community and work with other local organisations on conservation projects; help to provide information about birds and birding to the general public and make representations on threats to local habitats resulting from proposed developments. Members also help to construct and maintain local bird-related infrastructure such as nesting boxes, benches at viewpoints and bird hides.

Our community engagement activities started in earnest in January 2019. Since then various events designed to introduce bird-watching to the public have been held, and we contribute articles on birds to local publications to inform and develop a wider appreciation of the birds of Shoreham and the surrounding area.
*"Fifty Years of Birdwatching 1953-2003", Ed. Terry Hicks, Brianne Reeve
Pub. SDOS 2003 [ISBN:0-9546710]