Adur Estuary
The River Adur
The River Adur derives its name from the Celtic word 'Dwyr', meaning 'water'. The river has been an important trade route since Roman times.
For more about the River click HERE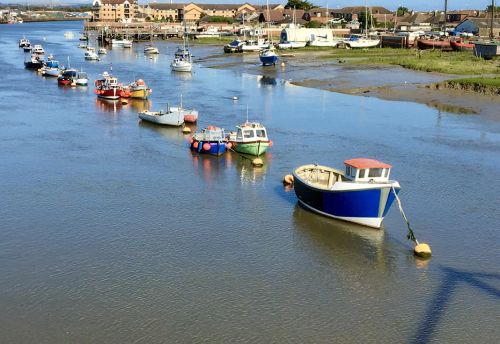 SSSI Designation
The intertidal mudflats of the Adur Estuary support a number of wading birds, particularly redshank, dunlin and ringed plover. A variety of species breed within the reedbed adjacent to the estuary north of the A27,including moorhen, reed warbler and sedge warbler.
Extract from the
SSSI citation
.
RSPB Reserve
Part of the lower estuary near Shoreham-By-Sea is the RSPB Adur Estuary Reserve. The Reserve is a 149 acre saltmarsh which was passed to the RSPB in 1987 when the Harbour Authorities plans for a marina lapsed.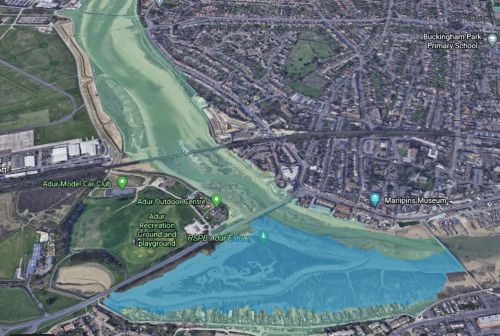 Google Earth
The approximate area of the Reserve is shaded blue, within the SSSI which is shown in pale green.

| | | |
| --- | --- | --- |
| | Paddlers - to minimise the disturbance to wildlife please click HERE to download some guidelines. | |
Birdwatching Notes
Principally this site is a wintering roosting and foraging habitat for Redshank, Snipe, Teal and Lapwing. All ground nesting birds move away in the breeding season as nesting is impossible due to the entire estuary area being inundated by water at high tide. The exception is a few Oystercatchers nesting on local roofs,.
During Spring and Autumn migration the reserve may be visited by Whimbrel and Greenshank with individuals of both species possibly overwintering. In late Summer Sandwich Terns gather before migration.
Except for the breeding period Oystercatchers and Turnstones are found on the shell and mud banks of the river and reserve edge at lower tide levels whereas others species require a high tide to flush them into view out of the saltmarsh. A Spring Tide height exceeding 6.4 metres gives the best views of Snipe (possibly 150) and Redshank (60 plus).
Ringed Plover, Dunlin, Little Egrets, Grey Herons, Cormorants and Curlew can frequently be seen. .
Kingfishers are regularly present if you are lucky and spot them. Grey Plovers and Common Sandpipers may be seen.
Rare sightings have included Avocet, Great Egret and Spoonbill.
Tim Holter